Under the Lid with Team Enlightened: Caroline's Keto Kitchen
Find out what Keith Urban and keto ice cream have in common.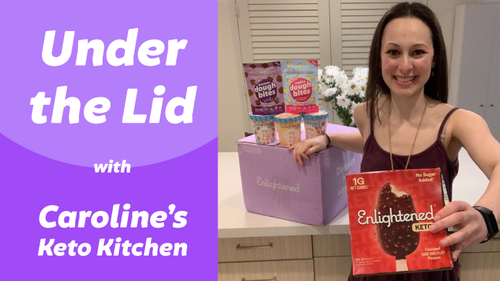 ---
In our new series "Under the Lid," we're sitting down with influencer partners and friends of the brand to give you the inside scoop. First up: Caroline's Keto Kitchen!
Tell us a little bit about yourself!
I'm a 28-year old low-carb enthusiast originally from St. Louis, Missouri, but I now live in the San Francisco Bay Area. I've worked at Google for the past 6+ years as my "real job," but baking, cooking, recipe development and working on my blog Caroline's Keto Kitchen are some of my favorite passion projects. I've had type 1 diabetes for over half my life, so I'm quite active in that community. I really enjoy spending time with family and friends, travel, concerts/live music, and baking birthday cakes for foster kids.
At Enlightened HQ, we're all about spreading joy—that's why we make feel-good desserts! What are your top three ways to find joy?
Being around people who make me laugh 

Setting and achieving short-term goals that align with longer term things I really care about

Eating dessert every day
From start to finish, what's your favorite way to spend a day?
My average day is quite busy, so my perfect day may not sound all that exciting, but a relaxing day with nothing I have to do sounds amazing sometimes. It starts with sleeping in. Definitely involves fabulous food and dessert throughout (including Enlightened, of course!), likely some baking too. Probably going out to eat for dinner in one of the local downtown areas. Music is on in the background the entire time (I listen to quite a wide variety—from Taylor Swift's new albums to country to top 40 and Broadway). Some time spent with family, friends, and/or my boyfriend. I likely go to the grocery store or Costco (because they're awesome and my kind of shopping!). Maybe watch a movie (chick-flick or romantic comedy) or some stand-up comedy before calling it a night.
What's your favorite Enlightened product? What's your favorite way to incorporate it into a recipe?
Didn't know you'd be asking such hard questions! I'd probably have to go with the Keto Caramel Dark Chocolate Peanut bars. I usually eat them straight off the stick, but to incorporate them into a recipe, I have stuffed a couple into a keto ice cream pie before!
If you could create your dream ice cream pint, what would it be?
It'd be a keto flavor, and the base would be French vanilla, and it would be absolutely loaded with the Birthday Cake Dough Bites. You may call it simple, but I'd call it out-of-this-world delicious.
What's something that would surprise people to know about you?
Keith Urban brought me on stage for a few minutes at one of his concerts. Signs with flashing Christmas lights in them pay off!
Anything else to share?
My whole family are huge fans of Enlightened! My dad decided to join me eating keto a few years ago, and he's never looked back. (Both of us only eat Enlightened by the pint!)
Visit Caroline on the web at Caroline's Keto Kitchen or find her on social media @carolinesketokitchen! 
---