Enlightened Gives Back
We're committed to helping 
build a brighter, healthier future.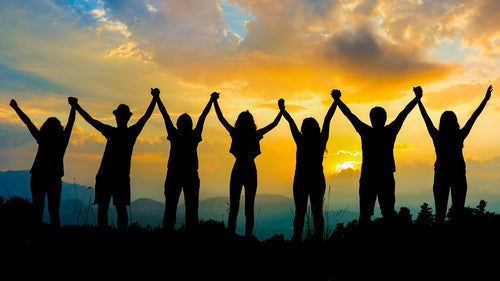 ---
Since our earliest days, we here at Enlightened have been focused on health. Along with bringing delicious options made with way less sugar to the freezer aisle, we're always asking ourselves: How can we help bring better health not only to individuals, but to communities and our planet as well? 
We've been lucky to partner with a wide range of amazing organizations working to build a brighter, healthier future. Below, meet some of our donation partners and learn how you're helping to give back when you shop with us.
Fighting hunger
Food security is so fundamental to a healthy life that it can be easy to take for granted. 38 million Americans, though, don't have access to enough food. To help in the fight against food insecurity, we partnered with Feeding America in November 2019, March 2020, and March 2021 to donate website profits. 
In a healthy community, none of our neighbors should worry about going without a meal. Feeding America works with food manufacturers, retailers, farmers, and food banks to prevent food waste, distribute food, and raise awareness about the cycle of hunger and poverty in America. You can volunteer or donate by visiting Feeding America online. 
Later in 2020, we partnered with another organization committed to providing meals for those in need. For almost 150 years, The Bowery Mission has helped New Yorkers experiencing hunger, homelessness, and other crises with meals, shelter, clothing, medical exams, and other services. You can visit The Bowery Mission's website to volunteer or donate. 
In November 2021, we joined forces with Welcome to Chinatown's Sik Faan Fund to donate 100% of the proceeds on the limited-edition Sweet Treats Bundle. Taking its name from the Cantonese words for "Let's Eat!," the Sik Faan Fund supplies low-income and food-insecure residents of NYC's Chinatown with food and household necessities sourced from local businesses. You can visit Welcome to Chinatown's website to donate. 
COVID-19
Spring of 2020 was a scary and uncertain time. Seeing hospitals here in New York City filling rapidly, we wanted to do everything that we could to help healthcare workers. Starting in April, we donated 50% of website profits for 30 days to Get Us PPE, a mission to provide healthcare workers with essential supplies like masks, gloves, and face shields.
As of July 2021, Get Us PPE is no longer accepting donations, but you can get to know their partner organizations on the Get Us PPE website. 
A unique year called for a unique way of celebrating National Ice Cream Day. Our #ScoopLocal campaign encouraged fans to support the local, independently owned ice cream shops that are a proud part of our communities. Along with highlighting beloved community ice cream shops on Instagram, we donated website profits to the James Beard Foundation's Open for Good initiative, a campaign to help independent restaurants survive the coronavirus crisis, rebuild better and thrive for the long term. You can donate on the James Beard Foundation's website. 
Supporting mental health
Although discussing mental health and wellness has become more normalized over the last decade, there is still so much work to be done. With millions of Americans living with a mental illness, it's crucial that we work towards a future where no one feels alone in their struggle. To do our part, we donated website profits in May 2021 to the National Alliance on Mental Illness (NAMI), whose goals include fighting stigma, providing support, educating the public, and advocating for policies that support people with mental illness and their families. You can get involved with NAMI on the NAMI website. 
A better future for all
We believe that a healthy community is one that's just, fair, and equitable. To defend equal rights for all, we've teamed up with organizations working to address the unique challenges faced by a variety of American communities:
💡 Know a great organization that could use our help? Let us know at customerservice@eatenlightened.com!
---