Cookie Crust Peanut Butter Pie
"Easy as pie" just got easier: This pie crust is made with just one ingredient.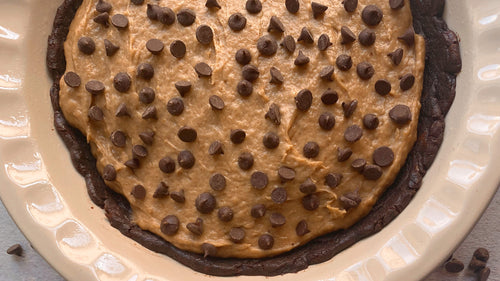 ---
Everyone loves a slice of pie. Making pie crust? That's a little less popular. If you're less into kneading and more into eating, this recipe is for you!
One-ingredient pie crust
If you've ever made a pie from scratch, you know that the crust is the most challenging part of the equation. A trivial-seeming misstep like kneading too much or butter that isn't cold enough can prove the difference between flaky and leathery. The process of transferring the finished crust to a pie plate gets even more precarious. Draping a fragile pie crust over a rolling pin, the phrase "easy as pie" starts to sound pretty ridiculous.
It's no wonder that many of us leave the pie-making up to Grandma. Luckily for pie fans everywhere, our friend Olivia (@skinnyhangover on Instagram) had a moment of inspiration: What about a crust made out of ready-to-bake cookies? Molded together into one sheet of dough, Double Chocolate ready-to-bake cookies form the perfect chewy, chocolatey base for this silky peanut butter pie. 
Since the peanut butter filling doesn't need to bake, this recipe only involves one round in the oven. "Easy as pie" is starting to make sense again!
Recipe: Cookie Crust Peanut Butter Pie 
Prep time: About 4 hours (including 3 hours of wait time)
Cook time: 10-13 minutes
Ingredients
1 cup smooth unsweetened peanut butter

3 medium bananas

3 tbsp almond milk

2 tsp vanilla extract

¼ tsp salt

⅓ cup dark chocolate chips
Directions
Defrost cookies at room temperature until soft and pliable. Preheat oven to 325°.

On a piece of parchment paper, push the cookies together into a single block. Roll out with a rolling pin into a round shape roughly the size of a pie plate, about ⅛" thick.

Transfer the cookie crust to a pie plate, pressing the dough into the sides of the dish. Bake until golden brown around the outer edge, about 10-13 minutes. Set aside for 30 minutes to cool.

While crust cools, add peanut butter, bananas, almond milk, vanilla extract, and salt to a mixer and blend until smooth. Pour onto the cooled pie crust and spread evenly. Top with chocolate chips.

Cover with plastic wrap and freeze until solid (at least 3 hours). Defrost before serving.
More ready-to-bake cookie ideas
---