All About Enlightened Ready-to-Bake Cookies
Bake up a batch with 
with none of the added sugar and all of the chocolate chunks.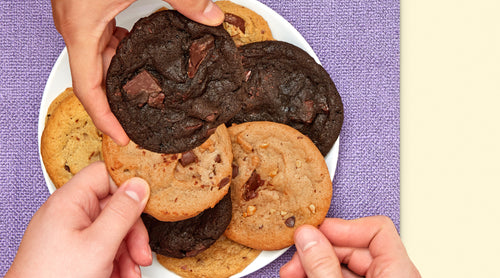 ---
Ready-to-bake cookies are joining Enlightened's lineup of desserts in three delicious flavors: Chocolate Chip, P.B. Chocolate Chunk, and Double Chocolate! Here's your complete guide to the newest treat coming to your freezer.
What makes Enlightened cookies different?
Warm, oven-fresh chocolate chip cookies are a dessert that everyone loves, and you can't beat the simplicity of packaged cookie dough that's ready to bake. Unfortunately, one more thing that traditional ready-to-bake cookies have in common is a ton of added sugar—sometimes as much as 15 grams in a serving. (For the average American who eats 18,928 cookies in their life, that's 625 pounds of sugar from cookies alone!) 15 grams is almost half of the recommended daily maximum of added sugar for men and 60% of the recommended limit for women, according to the American Heart Association.
To create ready-to-bake cookies you can feel great about enjoying, we replaced all that sugar with allulose, a great-tasting alternative with zero net carbs which you'll recognize from other Enlightened products. We also used the same high-fiber wheat flour found in our sugar-free ice cream cones for 6 grams of dietary fiber per cookie (compared to less than 1 gram in traditional cookies).
We may have rewritten the cookie script with keto-friendly cookies that have 2 grams of net carbs each, but we haven't changed everything: Just like traditional cookies, all three flavors are loaded with gooey chocolate chunks.
Can you eat Enlightened cookies raw?
Chocolate chip cookie dough always looks tempting. However, these cookies are raw, not ready to eat, and should always be baked before eating. (Another heads-up: Cookie dough that's been thawed should not be refrozen.)
If you love the raw cookie dough experience, though, you're in luck with another line of Enlightened products. Dough Bites are soft, chewy morsels of cookie and brownie dough that are snackable straight out of the freezer (not to mention delicious on top of a sundae). You'll also find chunks of delicious dough in many Enlightened ice cream flavors, like keto P.B. Brownie & Cookie Dough and light Brownies & Cookie Dough.
How to bake Enlightened cookies
Baking these cookies couldn't be easier. If you can turn on your home oven, you're most of the way there! The only pieces of equipment you'll need are a baking sheet, some parchment paper, and oven mitts for handling the hot pan. For a perfect batch of cookies, there are just a few steps to follow:
Preheat your oven to 325°F.

Line a baking sheet with parchment paper. Place the unbaked cookies 3 inches apart on the parchment-lined pan.

Bake until the cookies are golden brown around their outer edges, about 10-13 minutes.

Allow the cookies to cool completely before removing them from the pan.
Since cookies can be fragile straight out of the oven, put the pan on a cooling rack and allow the cookies to cool for at least 5 minutes. (We know it's hard to wait, but allowing some time to cool will help prevent crumbling.) Wondering what to do with used parchment paper? Good news for the environment: Unbleached parchment paper can be composted.
In each box you'll find 12 cookies. You can bake as many as you'd like to eat and keep the rest frozen, or bake the whole dozen and save any leftovers in a reusable container to enjoy the following day!
Where to buy Enlightened cookies
Feel a cookie craving coming on? You can snag all three flavors, shipped to your door on dry ice, on EatEnlightened.com. If you're inspired to pair these cookies with your favorite flavor of Enlightened ice cream, we've got you covered: The online-exclusive Ice Cream Sandwich Kit includes ice cream, cookies, tips on building the perfect ice cream sandwich, and taster-approved flavor combo suggestions.
Ready-to-bake cookies will also be arriving soon at grocery stores including Sprouts, Harris Teeter, and Lowes Foods. Not near these stores? You can request cookies wherever you like to shop by dropping off a request form with the store manager. We can't wait to see what you bake up!
---