Keto Ice Cream: Our Delicious Guide
Ice cream without all the sugar has arrived. Here's what you should know!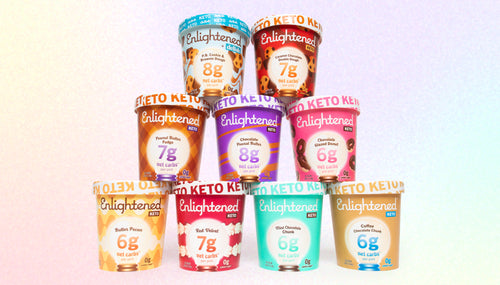 ---
Can you eat ice cream on keto?
It's no secret that ice cream is often high in sugar, but you may be surprised at just how much sugar regular ice cream contains. A ⅔-cup serving of regular ice cream has an average of 27 grams of sugar. If you're doing keto, that could be half or more of your carb intake for an entire day! Not so sweet, right?
But don't despair, ice cream lovers—keto ice cream is here, with the delicious taste, creamy texture, and loads of fun chunks and swirls that you look for in regular ice cream, all with no added sugar and 8g net carbs or fewer per pint. Eating keto doesn't mean missing out on sweets or skipping dessert anymore!
What makes keto ice cream keto
It sounds like a riddle: How can ice cream made without added sugar be every bit as sweet as regular ice cream? To make ice cream keto-friendly, we turned to a few different zero-net-carb natural sweeteners—erythritol, a sugar alcohol found in fruits such as watermelon and grapes; monk fruit, one of the sweetest melons in the world, grown in southern Asia for centuries; and allulose, a form of sugar with 90% fewer calories than table sugar. (Another ingredient, soluble corn fiber, replaces some of the other important functions of sugar in ice cream.) Enlightened keto ice cream is also made with real cream, which is much lower in carbs than other dairy products, as the first ingredient.
Hard to wait (but worth waiting for)
Ever notice that keto ice cream tends to be a bit harder than regular ice cream? The difference is sugar: Sugar causes ice cream to melt more quickly, so ice cream that's lower in sugar takes longer to melt. With the recent addition of allulose, Enlightened ice cream is softer and more scoopable, but for maximum deliciousness and the creamiest possible texture, let your pint sit out for 5-10 minutes before digging in.
The best way to enjoy keto ice cream
We haven't found a wrong way to eat keto ice cream yet! A few of our favorite ways to enjoy include:
Where to buy keto ice cream
Looking for a great selection of delicious keto ice cream flavors? You can find Enlightened keto ice cream in grocery stores across the country, including Publix, Walmart, Sprouts, Whole Foods, ShopRite, and more! Search your city and state or zip code in our store locator for details on stores near you.
If you prefer shopping online, you can also order Enlightened keto ice cream (plus more delicious keto desserts like mini cheesecakes and Dough Bites) directly from our website. (Wondering how we're able to ship frozen stuff? Each order is packed in a cooler with plenty of dry ice to keep everything frosty cold for you.) 
---