A Handy Guide to Finding Enlightened at Walmart
Ice cream pints, chocolate-dipped bars, and so much more.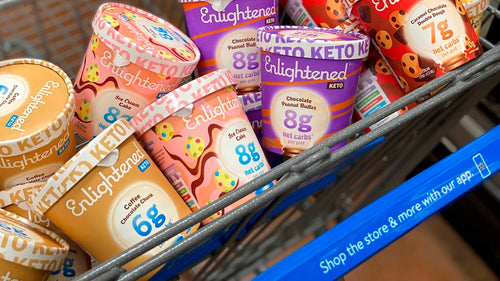 ---
The secret is out: Walmart carries an awesome assortment of Enlightened desserts, including ice cream pints, chocolate-dipped bars, and so much more. If you're getting ready for that next Walmart run, read on for a guide to all of the Enlightened products you'll be able to find.
Finding the nearest Walmart
With 5,342 locations across the United States, odds are that you've got a Walmart store nearby. Not sure where exactly to look? Enter your city and state or zip code in our store locator to get an address for the nearest location.
💡 Looking for a specific product? Click the item so that a purple check mark appears over it before entering your location info.
If Walmart doesn't carry your favorite flavor
Walmart's selection of Enlightened desserts is amazing, but what's a dessert lover to do when one of your favorites isn't on shelves? You can let store managers know what you're craving by printing out and dropping off a product request form. Stores want to carry the products that you want to buy, so making a request is a great way to let the store know that your favorite flavors are in demand.
💡 Feel-good fact: The symbol in the Walmart logo is a spark, symbolizing inspiration. 
Enlightened products available at Walmart
Keto ice cream pints
Are you someone who's been known to say "I like ice cream with a lot of 'stuff' in it?" Good news: Walmart's wide range of keto flavors goes heavy on the tasty chunks and swirls. Wondering which flavor to try first? With a  generous peanut butter swirl and tons of gluten-free peanut butter cookie dough and brownie dough, best-selling P.B. Cookie & Brownie Dough is a great starting point. 
Caramel Chocolate Double Dough

Chocolate Peanut Butter

Mint Chocolate Chunk

P.B. Cookie & Brownie Dough

Peanut Butter Fudge

Ice Cream Cake

Coffee Chocolate Chunk
Keto ice cream bars
If you prefer the perfect portion of ice cream served up on a stick, Walmart's assortment of 1-2g net carb, no-sugar-added ice cream bars includes our two newest: Vanilla Double Dough (vanilla ice cream with cookie dough, brownie bites, and chocolate chips) and Peanut Butter Chocolate (peanut butter ice cream dipped in dark chocolate and crunchy peanuts).
Caramel Dark Chocolate Peanut

Dark Chocolate 

Marshmallow Peanut Butter

Vanilla Double Dough

Peanut Butter Chocolate
Light ice cream
Walmart is also a great spot for finding our range of light ice cream flavors, with 400 calories or fewer per pint. Chunk cravers won't want to miss Caramel Fudge Pretzel, which features vanilla ice cream, fudge-covered pretzels, and a swirl of salted caramel.
Brownies & Cookie Dough

Chocolate Peanut Butter

Cold Brew Coffee

Caramel Fudge Pretzel
Cheesecakes
You'll also find a selection of our most popular mini cheesecake flavors in the freezer case. Thaw on your countertop, in the fridge, or, if you want dessert in a hurry, microwave for 10 seconds!
Chocolate

Classic

Strawberry

Pumpkin
Fruit Infusions
Each refreshing flavor of these fruit bars is infused with adaptogens to help keep you feeling your best. We love the slivers of real coconut in Coconut + Immunity as well as the immune-supporting boost it gets from elderberry, hibiscus, and aloe vera.
Coconut + Immunity

Pineapple + Renew

Strawberry + Chill

Mango + Boost
Many thanks to Hip2Keto for the beautiful photos used in this article!
---