Low-Carb Brownie a la Mode
The secret to fudgy keto-friendly brownies is... avocados?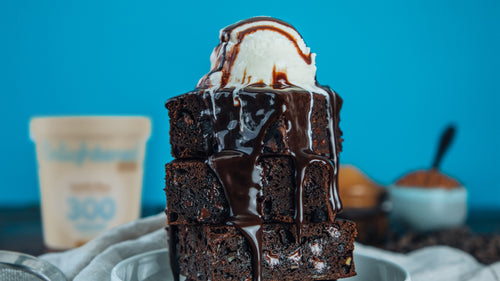 ---
Cool, creamy ice cream atop a warm, fudgy brownie is a magical combination, but is a keto-friendly brownie a la mode possible? Read on for a recipe that's a delicious new take on this dessert classic.
What the heck does a
 la mode
mean, anyway?
French speakers will recognize a la mode as a bit of français: Literally, a la mode means "in the current fashion" and in France is applied to other dishes like boeuf a la mode (basically a French take on pot roast). Today, topping your dessert with ice cream may seem more timeless than trendy, but someone had to think of it first!
Avocados: Not just for toast
If you're doing keto, you're probably already finding lots of savory applications for avocados. 
You've probably heard that avocados have "good fats" -- these are called monounsaturated fats, which can actually help lower cholesterol. Even more importantly (some might say 😉), healthy fats help make a dang good brownie, lending an amazing fudgy texture. (Tip: To ripen avocados faster, place them in a paper bag with an apple or a kiwi!) 
We can't help but wonder if carrot cake got the same side-eye that avocado brownies do when it was first created. But in this age of zucchini smoothies, we're embracing recipes that push the envelope with the sweeter side of vegetables.
What's the best ice cream for brownie a la mode?
There's no wrong answer here: Any creamy, delicious flavor of Enlightened ice cream will fit the bill. Try Vanilla Bean for a classic pairing, or go meta with Brownies & Cookie Dough or Caramel Chocolate Double Dough. 
Recipe: Low-Carb Brownie a la Mode
Prep time: 10 minutes
Cook time: 20-25 minutes
Ingredients
4 eggs

2 ripe avocados

½ cup coconut oil

6 tbsp unsweetened peanut butter (optional)

⅔ cup erythritol sweetener

⅔ cup unsweetened cocoa powder

¾ cup stevia-sweetened chocolate chips

2 tsp vanilla extract

½ tsp kosher salt

Enlightened ice cream

Enlightened sugar-free chocolate syrup (optional)
Directions
Preheat oven to 350°F and line a 9x9 baking pan with parchment paper.

In a large bowl or stand mixer, combine all ingredients aside from coconut oil and chocolate chips. 

Mix in the coconut oil for a thick, gooey batter, then add chocolate chips.

Use a spatula to spread batter evenly in the baking pan.

Bake for 20-25 minutes on the middle rack of your oven, or until a toothpick or knife comes out clean.

Remove from oven and let cool, then gently remove from pan. Slice and top with your favorite flavor of Enlightened!
---