Sugar-Free Chocolate Syrup Is Here!
Check out our new drip.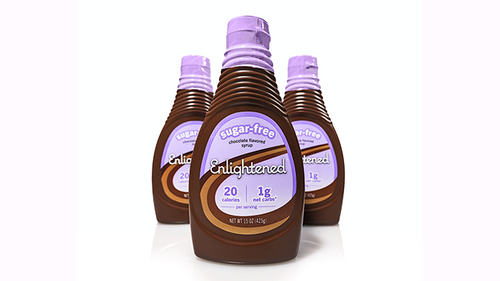 ---
If you've ever said "Enlightened ice cream can't be topped," think again! We're thrilled to share our first-ever topping—and it's sugar-free! Read on for a complete guide to Enlightened's new sugar-free chocolate syrup.
How we're different
Typically, chocolate syrup is made with sugar, and lots of it. Traditional chocolate syrups can contain as much as 22 grams of sugar per serving. That's almost half of the recommended maximum intake of added sugar per day in just two tablespoons. Because of the high sugar content, traditional chocolate syrups are also high in carbohydrates—a problem for anyone living a keto lifestyle.
While sugar-free versions of chocolate syrup exist, many are made with artificial sweeteners such as sucralose and acesulfame potassium. Another common ingredient, maltitol, is known for affecting blood sugar. 
For chocolate syrup that's just as thick, rich, and indulgent as the traditional stuff without the sugar, we used real cocoa plus a couple of different zero-net-carb natural sweeteners, erythritol and monk fruit. Finally, chocolate syrup that's both sugar-free and totally delicious!
Not just for sundaes
Don't get us wrong: We love squeezing this syrup on a bowl of Vanilla Bean or P.B. Cookie & Brownie Dough, along with some nuts and whipped cream. But topping sundaes is just the beginning for this crazy-versatile syrup. Try it:
For making chocolate milk.

Chocolate milk has long been a lunchtime favorite. Whip up a version that cuts out the sugar and keeps the chocolatey goodness by stirring Enlightened syrup into your favorite type of milk.

In coffee drinks or milkshakes.

Play barista at home with a squeeze of sugar-free chocolate syrup in your favorite coffee drink. (Don't forget that unsweetened whipped cream is keto-friendly!)

With fruit.

Fresh, juicy berries and chocolate are a match made in heaven. Fiber-rich and relatively low in net carbs, berries are also some of the best fruits to eat when doing keto.

On keto pancakes.

Pancakes without syrup just wouldn't seem right. For a breakfast you won't believe is low-carb, sprinkle on some Chocolate Chip or Birthday Cake Dough Bites as well.
💡 Feel-good fact: Chocolate milk was invented in Jamaica in the early 18th century.
Where to buy Enlightened sugar-free syrup
Enlightened sugar-free chocolate syrup is on its way into stores across the country, including Whole Foods Market, Sprouts, Pavilions, Albertsons, and Fresh Thyme. Look for it on shelves along with other ice cream toppings.
If you're not near these stores, don't worry—Enlightened sugar-free chocolate syrup is available to order on Amazon! Add a box of crispy, crunchy sugar-free cones, and you're all ready to make some low-carb dessert magic.
---