Under the Lid with Team Enlightened: Kevin Hejnas
Competitive natural bodybuilder Kevin dishes on his love for Salted Caramel Cookie.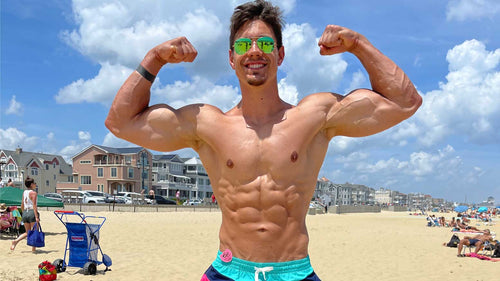 ---
In our new series "Under the Lid," we're sitting down with influencer partners and friends of the brand to give you the inside scoop. This month: Kevin Hejnas AKA Hejnasty!
Tell us a little bit about yourself!
Hello! My name is Kevin Hejnas. I am a competitive natural bodybuilder, (past) internationally competitive powerlifter, founder of the Healthy Flex Prescription, and ICE CREAM CONNOISSEUR.
At Enlightened HQ, we're all about spreading joy—that's why we make feel-good desserts! What are your top three ways to find joy?
Starting my day off in the win column with a quality workout boosts my mood and energy for the rest of the day. I may not feel the most joyous during the workout... but the mood and productivity boost it gets me for the rest of the day is FAR worth it!
Getting in my daily pint of ice cream (while making it fit my macros!) Ice cream is my favorite food, so knocking out a delicious pint (or 3.....) while sitting outside in the summer with my doggos is one of my favorite things to do.
Getting friends together for a UFC fight night, cookout, or a big jiu-jitsu session gets me recharged to take on the next work week! (Especially running some backyard cornhole games, ya boi stays undefeated.)
From start to finish, what's your favorite way to spend a day?
6am-9am: Hit the gym for a joocy pump, get a little productivity in for an hour and put a brisket in the smoker.

9:30am-1:30pm: After that, I head over to a Brazilian jiu-jitsu class followed by a kickboxing class (ideally both consisting of a lot of rolling and sparring).

2pm: Get a nice post workout meal in, usually involves a pint of Salted Caramel Cookie ice cream, shower time and get some salmon in the smoker. Get some productivity in.

5pm: Friends over to play cornhole and have a cookout, then settle in for a UFC Fight Night starting around 7pm.
My ultimate plan is to get those 3 training sessions in so I then have more calories to eat for that day 😉 These nights tend to go a bit long, so I'll sleep in a bit for Sunday.
What's your favorite Enlightened product? What's your favorite way to incorporate it into a recipe?
LOVE any flavor that involves a caramel swirl. Salted Caramel Cookie is probably my top one in rotation currently.
My favorite way to incorporate it in a recipe is as follows:
Step 1: Get pint of Enlightened out of the freezer
Step 2: Remove film, invert in microwave for 20-30 seconds
Step 3: Grab a spoon (ideally a smaller one so the fun lasts longer)
Step 4: Devour
I'm a simple guy 😃
If you could create your dream ice cream pint, what would it be?
Oh man... this is a tough one. Maybe something like "chocolate chip pancakes:"
Vanilla or snickerdoodle ice cream base

Maple syrup swirl

Chocolate chip action

Possibly some pancake chunks
A coconut cream pie flavor one day would be awesome too!
What's something that would surprise people to know about you?
I have my doctorate in pharmacy from Rutgers in 2018, but after receiving my degree I decided to fully pursue growing my coaching business (the Healthy Flex Prescription). My mom was NOT a fan of the decision, but has since come around :)
Keep that in mind for any aspiring entrepreneurs! You can do it!
Anything else to share?
Major thank you to Enlightened for changing the game when it comes to low calorie, high protein, high fiber ice cream options! Been a fan for many years and have devoured many pints in my career.... Keep doing what you do!!
Visit Kevin's YouTube channel or find him on social media @hejnasty!
---