Ice Cream Piña Colada
Grab your blender for a breezy taste of the tropics.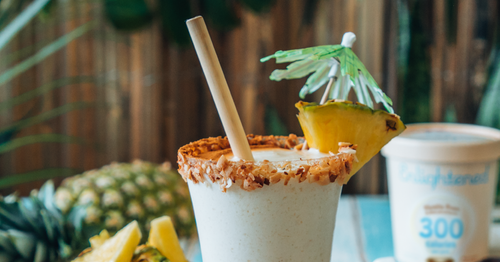 ---
When summer's at its most sweltering, who wouldn't want to get away for a little Caribbean vacation? With this piña colada milkshake featuring Enlightened ice cream, your Caribbean getaway is as close as the nearest blender. Three steps from start to finish make this healthy indulgence a (tropical) breeze to make.
Is cream of coconut the same thing as coconut milk?
Sorting out the variety of canned coconut products can be enough to drive you… well, nuts. Coconut milk, coconut cream, and cream of coconut are all made by cooking shredded coconut with water, but they each have their own special properties that can affect the recipes you make. Keep this breakdown handy and you'll always choose the right one:
The thinnest of the three,

coconut milk

, works well in soups and curries.

Looking to add a silky texture and richness (but not sweetness) to a non-dairy dish?

Coconut cream

, made using more coconut meat and less water than coconut milk, will do the trick.

Cream of coconut

is a sweetened version of coconut cream. Since it's sweetened, it may not be best-suited for your next curry, but cream of coconut is perfect for a piña colada.
What can you do with a pineapple shell?
Don't toss that pineapple shell just yet: After carefully scooping out the fruit with a melon baller or spoon, you'll have the coolest biodegradable ice cream bowl on the block. 
💡 Feel-good fact: A pineapple turned upside down will ripen faster!
Recipe: Ice Cream Piña Colada
Prep time: 10 minutes
Ingredients
½ cup ice

2 ounces cream of coconut

⅔ cup pineapple, fresh or canned

2 ounces brandy or rum

Toasted coconut
Directions
Add ice, cream of coconut, pineapple, ice cream, and brandy (if using) to your blender.

Blend ingredients until smooth.

Dip the rim of the glass in cream of coconut, then roll in toasted coconut to coat. Pour, garnish with a pineapple wedge (and/or tiny umbrella), and enjoy!
Put a spin on it
Want a kid-friendly or non-alcoholic version? It's as simple as omitting the liquor.

Swap in our Butter Pecan ice cream for an even lower sugar treat with buttery, caramel-y, pineapple upside-down cake vibes.
---